32nd Annual Fashion Show 
You are invited to the 32nd Annual Fashion Show at the beautiful Stockton Golf and Country Club on November 4th, 2017 at 5:00pm! This evening will feature fashions from local boutiques, special tequila tastings, champagne toast, a silent auction and an amazing display of raffle items.
For any questions:
Amrit Pawar
Apawar@nochildabuse.org
(209)851-3468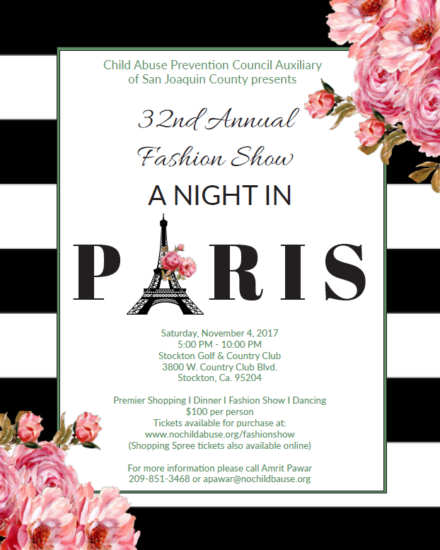 31st Annual Fashion Show
Thank you to everyone who came to the Annual Fashion Show. Guests enjoyed shopping, a fashion show with darling little models and a heartfelt message from Beth Lambdin about the impact a Court Appointed Special Advocate (CASA) can have on a foster child.
This would not be possible without our amazing sponsors, volunteers, and all our guests who go the  extra mile to advocate and help raise awareness for the foster children in our   county. Together as a team, we can keep  CASA in the San Joaquin county. By  sponsoring  the fashion show, you are helping strengthen families in our    community.
Stay tuned for the 32nd Annual Fashion Show on November 4th, 2017
For pictures of the event visit our Facebook page